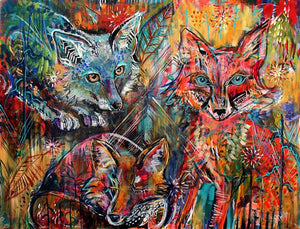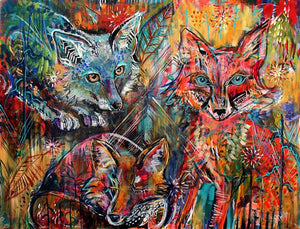 On Sale
Spirit Foxes
A psychic once told me that my animal was a fox… so I went a little crazy with the inspiration for this one. The fox offers teachings about dealing with obstacles and in resistance in life with intelligence rather than confronting them head on. They remind you to keep a sense of humor about the lessons you learn and use them to support your ability to find the sharpest and smartest solution to any problem.
This is a fine art giclee print of an original acrylic painting. All prints are printed on professional grade acid-free archival paper. 
It is available in three different paper print sizes. Please inquire if you are interested in stretched canvas sizes and pricing.