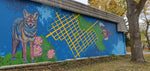 As part of the Grindstone Theater's second annual Mural Massive Festival in Edmonton, AB Shelby Willis and Meghan MacMillan painted a giant wrap around mural on the walls of the Ritchie Community League, located at 7727 98 St NW, Edmonton. 
The Mural Massive festival is a giant outdoor block party that features music, comedy, and a flock of permanent and portable murals, painted live and local! 
The Ritchie Community League mural was inspired by the creatures that can be found in the nearby river valley, and a geometric/topographical street view of the local neighborhood. 
While painting the mural Shelby and Meghan felt immersed in the community, having the chance to see locals on the regular and meet all the dogs that frequently visited the area with their owners.